Quality Photography Magazine
Best Israeli Photographers
Most Influential Photographers
Best International Photographers!
Lens Magazine for contemporary Fine Art Photography
The International Lens Magazine takes a single concept each month, and allows its contributors to delve into any ideas and emotions evoked from this theme, leading to a rich and varied selection of photographs and stories behind them. The magazine featured the most known photographers in the world along side with emerging photographers from all around the globe. Each and every issue is beautiful and impressive as they are unique.
The official website also echoes the concept explored in each issued, with regular article contributions offering amazing advice on a range of photography techniques.
The international art community is often left feeling hungry for more. Some countries offer little to no works coming from their youngest and most enthusiastic artists, with the ones that do sometimes falling under the radar due to
a restrained platform to showcase their talents. This is why publications such as Lens Magazine are leading the way in which we gain access to lesser known works.
Photography is the art of observation. A photo may tell a story, or help you to begin your own upon seeing it.
Lens Magazine goes deeper still, with interviews with the people that bring these images to life. Knowing the story or inspiration behind a photography helps to understand and appreciate it better, and by giving all access in reviews to the artists holding the camera, we learn so much more about them.
The concepts of each issue allow for so many broad works to feature, all of which tell a different story whilst still focusing on the ideas laid upon in each issue. Take the most recent issue for example, which highlights street photography. This is a great notion, one that means something different to each and every artist. Lens gives the perfect opportunity to see photographs not only of Israel, but various global locations that infuse the same ideas shared in the concept, coming together in one beautiful display of fine art photography.
The magazine can be bought in a single issue, or a subscription, and comes in digital and print.
Lens Magazine is available from most of your respected online retailers, including the Apps Store, Google Play, Magzter.com, Issuu.com and Joomag.com. You can also get a Kindle version from Amazon, along with a printable copy for those in the United States from MagCloud.com.
The expansion of Lens Magazine and its sister publication at lensmagazine.net has been built over the past year and a half, thanks to the hard work and dedication of all involved in the publication, alluding to a bright and promising future for all involved. This is enforced by the growing global readership of the magazine, which would not be possible without relationships with massive companies such as Magzter.
Founder and CEO of Lens Magazine, Dafna Navarro sees the truly amazing opportunities the partnership with Magzter provides. The company has a large presence in many of the world's biggest countries, including the United States, many European countries such as Germany and France, along with many Asian nations – with plans to expand throughout the globe.
"As our main objective was to take our magazines to global readers, we needed to choose a well-established company that would help us to develop faster. We are most pleased to partner with Magzter, which gives us an amazing online exposure with its 26 million subscribers and helps us in growing our audience bases for our magazines – Lens Magazine & Art Market Magazine."
Dafna Navarro – CEO and Founder Lens Magazine and Art Market Magazine.
Israeli Art Market Magazine
Israeli Art Market magazine offers one of the best glimpses of art coming from Israel. From contemporary and Judaica artworks to rising and established names coming out of the country, it offers unrivalled views of one of the lesser recognised art communities of the world, covering every aspect of Israeli art.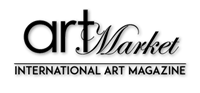 International Art Market Magazine
Bringing you inside the global art world with more access and insight to the people, places and events that shape our industry. With deeper focus on auctions, art fairs and exhibitions from all over the world, interviews with the new emerging artists and coverage of the most updated and neat events.