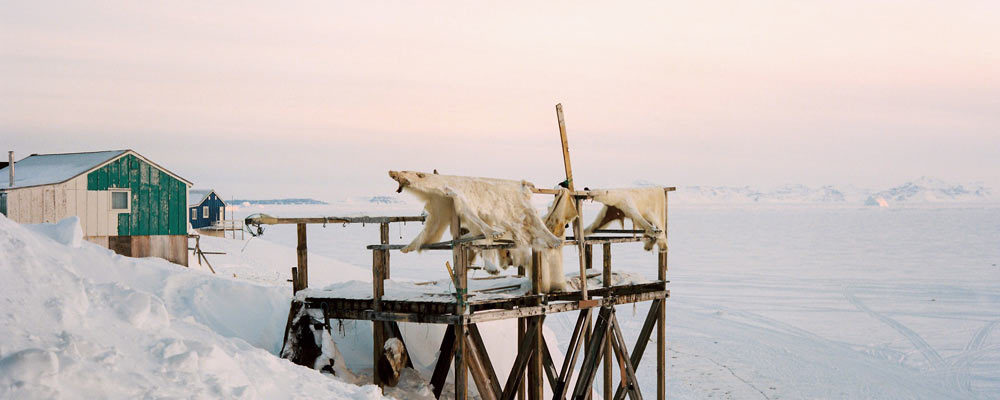 An Interview with
MICHAEL NOVOTNY
by Anastasia Tsypkina
An Unspoiled Spirit in GREENLAND?
Michael Novotny is a young photographer from Prague, Czech Republic, where he graduated from the Czech University of Life Sciences in 2013 receiving a Master degree in Landscape Architecture. He's always been strongly influenced by nature and even more after the environmental studies what's reflected in his work.
Living half-nomadic life Michael spent the year 2015 in Iceland, currently lives in Swiss Alps and travels whenever it is possible. He visited more than 40 countries in the last couple of years. Using only analog techniques over the years he developed a unique style and during his travels, he's capturing the worldwide landscapes in its rawness with a dreamy and mysterious touch and joy of traveling.
In recent works "We lost the Sea" and "Kalaallit Nunaat" he's shifting his attention to a socio-environmental storytelling document. The one was shot in Uzbekistan and focused on an ecological disaster of drying Aral sea. The other one captures how today's life in Greenland is involved by modern technology and the world and how the old unspoiled spirit of wilderness life and self-sufficiency is slowly being replaced by western lifestyle.
It was a big luck to hear about the trip to Greenland in Michael's own words and to just eventually chat with him. While traveling among the cold lands and the wild seas, they say it's almost impossible to turn back a traveler to reality from romantic landscapes and to get him talking about our boring man's topics.
Hi, Michael, your expedition to Greenland seems to be very successful. The topic about changing worlds is relevant now as it never has been before. We all observe pure civilizations are influenced by more developed ones. How is this process of influence shown in Greenland? In what spheres of life?
M.N. I tried to capture both the youngest and the older generation – there, the difference is most visible. While old people still hold on to their roots, keep the traditions and hunt for a living, young people mostly play football, listen to hip hop and dress like their internet heroes. It seems they're completely losing connection with what they ancestors used to be. And the internet (which is relatively new there) is to blame for sure.
Which of your photos reflect this idea? (Like, I really think of the photo of a boy holding a gun in his hands – one of the main in the series, mainly because it shows this western influence).
M.N. First of all it's needed to be said that the series works best as a whole. But even though the complexity is very important, there are some photos which could work as a representative. For example, the portrait of a young boy with his "Greenland" hat, pointing the gun at me. It was a very spontaneous shot – he was holding the gun against me, so I approached him, while he was still pointing at me and took a quick photo of him. He looked and acted like a real American ghetto boy, which is pretty ridiculous, because when you look around your shoulder you can see unspoiled nature and an ocean full of icebergs. Or the football goals in most absurd landscapes.
You could also describe me how did you feel about the natural Greenland, did you find it? Where?
M.N. On my second visit to Greenland couple of months ago, I was in much more authentic place than the first time. People still hunt there for living on a regular basis. I had a chance to go hunting seals with them – that was probably the most natural and authentic thing I've ever seen. And it completely changed my way of seeing my own way of life and made me even more sad about what is happening in bigger Greenlandic cities. I mean it's not that bad, but you can still see the Inuit spirit is disappearing. There I also decided to change the whole concept of my Greenlandic work – instead of trying to capture the social shift, I will go back some more times and capture the disappearing until it's possible. Or maybe both and then make a comparison.
What was the most shocking and hard-to-understand thing you've met there?
M.N. The most shocking part was when I found out, that they shoot polar bears for meat and furs. They actually shot one, when I was in the village (Ittoqqortoormiit) and I saw its intestines just laying in the snow and being eaten by dogs. But if you think about it, it's not that hard to understand – there's no way to grow any plants, so they have been hunting what was around. And the number is limited to 35 polar bears per year. The funny part of it is, that when I was leaving back to Iceland, some lady handed me a big bag of frozen polar bear meat to smuggle it there for her friends.
How did these trips to Greenland and series change your views over photography or people or way of life?
M.N. It moved me forward a lot – in terms of technique and my career as well. And it changed my way of how I look to western society now. We're doing so many meaningless things and are just focused on material happiness. Over there in Greenland, you just go and catch or hunt your food, don't own much and are happy anyway. A simple life is a happy life.