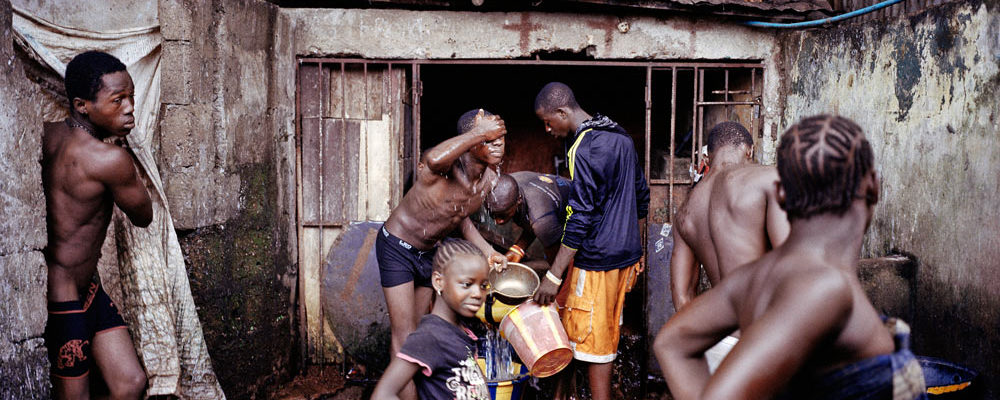 An Interview with
– Mustafah Abdulaziz-
Special Project: Water
The project Water (2012-2027) is a long-term photographic documentation of a resource in crisis. The focus of the work is on the intersection of culpability and ecology, where large-scale behavioral trends reveal how we exist within the natural world and ultimately how we imagine ourselves to be. Water, as seen from a global standpoint, is present in all aspects of human development and so is both defined by our behavior and in turn defines our potential.
The goal of Water is to build an overarching understanding of how humans and water interact at this critical juncture. If we are to see ourselves as one with nature—sustainable and not inseparable from it—then we must see ourselves in the reflection of our natural world.
When I set out to make this fifteen-year project it was only a dream—a dream to use photography as a means to study and reflect on the most critical element necessary for life. What propels me to pursue this work on water is the same then, at the start, as it is now: the belief that our resources may have limits but our capacity as a species to become better caretakers of our planet does not. We carry with all of us the potential to face the challenges of the 21st century, in the hope that we might leave a better world behind than the one we were given.
Mustafah Abdulaziz (b. 1986, New York City, USA) lives in Berlin, Germany. His ongoing fifteen-year project "Water" has received support from the United Nations, WaterAid, WWF, VSCO and Google. It has been reviewed by Phaidon, Monopol and published in Der Spiegel, The New Yorker, TIMES and The Guardian. Abdulaziz worked as the first contract photographer for The Wall Street Journal. In 2012, he was named one of PDN's 30 Emerging Photographers to Watch and in 2015 received the first prize of the Syngenta Photography Awards, allowing for the independent creation of new work on California's extensive drought. His solo exhibitions include: Strandvägen, Stockholm (2015), The SCOOP, London (2016), Dumbo, New York City (2016), National Geographic Museum, Washington D.C. (2016) and Jack Poole Plaza, Vancouver (2017) and Royal Botanic Garden, Sydney (2017).
Hello, Mustafah! Thank you for agreeing to this interview with Lens Magazine. Please introduce yourself to our readers. Where did you grow up, what is your background in photography and where are you based today? 
My name is Mustafah and I'm an American photographer working on a project about water around the world. For the last six years I've lived in Berlin, which serves as my base as I slowly build this fifteen-year body of work. My early background in photography was photojournalism, which I've now departed – and moved into something of a blend between conceptual photography and the documentary tradition.
Tell us a little bit about your photography journey and what motivates you.
I discovered photography at a bookstore, through the work of Richard Avedon's magnum opus, In The American West. This experience left a profound impact on me; it led me to other books, to hobbies in other disciplines and interests in the lives of others. What photography symbolized was more than imagery. It was a way to reckon my own insecurities and questions about the world. It offered no guarantees but promised perpetual evolution. To this day, my personal feelings and creative process in photography are heavily defined by this sense of change and growth. A large part of my current work is, in fact, almost a direct extension of this idea.
Your Special project, 'Water'', focuses on a very disturbing issue – from the poisoned marigold fields of Kanpur, India, to Sao Paulo, Brazil, where just two polluted rivers provide water for 21 million people. Since 2011, you have travelled the world, highlighting the impact of the global water crisis. Please tell us more about this series of work; what drew you to document this subject? 
There's an inherent problem in the way in which people discuss environmental crisis and visualize it for the public. Even the term "global water crisis" implies a certain concept that is at odds with the way we actually exist within the natural order, just as the word "drought" implies an end to a condition. What is more critical—and what made me conceive of the overarching nature and concept for visualizing it— came from this idea that words and images were failing us. I felt there needed to be something ambitious done. A photographic telling of epic proportions that would flow towards new ideas and concepts, building itself until a new way of discussing the topic existed. This would place water at the topical center and Mankind in its orbit. It would also take time and what I now know, after 6 years of working on it, ambitious scope wherein the true nature of the work is slowly revealed as it is created.
How many countries are in the project? How did you choose what areas of these regions to document?
Currently there is something like 12 countries in the work. The ultimate goal of the work will include somewhere between 30-40 countries. These are simply the places where the topics and themes are found, but this really belies an important idea that readers should appreciate: water is not limited to the borders we create. Where one issue or crisis occurs, so does it continue on. A river may flow into the lands of our neighbor and that which we do in one place may affect us all. It's very important to me, particularly in interviews where I can slightly control the narrative, to impress upon viewers a more challenging viewpoint from which to see this subject.
Tell us about the countries you were most attached by.
I would like to talk, rather, about the countries in which exhibited striking behavioral trends touched on larger themes of existence and importance towards human beings. There is, during the course of creating a work like this, a risk of the photographer or creator becoming too much of the story. My personal attachments matter to my process but they are also that: personal. What I did notice, and that I think is valuable for anyone to hear, at risk of redundancy and preaching to the choir, is that we are one family. Our behavior with water and the natural world defines and reveals the ways in which human beings see their place on Earth. Through this prism, one can see the refraction of our excesses and disconnections with our own history and evolution. We are living in irrational ways, regardless of the countries I visit, and it is this observation that forms a fundamental concept of the work.