Monsters at Borrego Springs
Photographing the Milky Way
By Jim DeLillo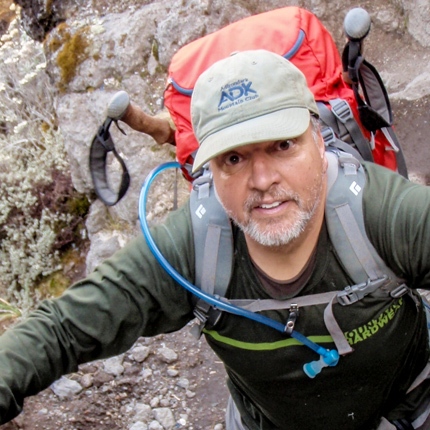 A warm wind blows across me, but I still feel a chill run down my back. I'm alone in the desert. I'm at one of the darkest places on earth according to my map. It's a little scary, especially while visions of coyotes, scorpions, and roving gangs of desert hares dance in my head. I'm here to photograph monsters. It isn't my imagination. I saw them as I drove in during the day. Standing as tall as two stories, I could make out their rust-colored silhouettes against the arid sand.
Fortunately for me these monsters are made of iron, sheet-metal sculptures by the artist Ricardo Breceda. Fantastical shapes depict serpents and dinosaurs. Breceda makes his home in Temecula, but due to a land/lease dispute, he may soon be moving his workshop. Breceda owes his muse to an accident about ten years ago. Urged on by his small daughter, he created dinosaurs, mastodons, great eagles and more. His works are seen in worldwide locations. But Borrego Springs remains the game reserve, corralling the most metal giants in one location.
While impressive in daylight, I am here to make them look like they are from another world. I specialize in Milky Way photography, so I juxtapose these monumental characters against a sky filled with stars with vibrant colors. The Sky glow from nearby towns helps outline the shadowy beings.
Meanwhile, I set my camera in position. A sturdy tripod, a fast, wide-angle lens, and full-frame DSLR make up my equipment. I locate the Milky Way, first with an application on my iPhone, and then visually, as my eyes adapt to the darkness. I dial in the magic formula…ISO 3200, f/2.8 30 seconds. Playing a flashlight along the weird shapes, I paint them with light during the long exposure.
Light painting is an art unto itself. It requires a little practice and finesse. But after a few trial exposures, I get it dialed in. It only takes a second or two during the exposure, sweeping the light in an arc across the subject. On occasion, I use a Speedlight for a bit more contrast, often running and ducking behind the subject to backlight it. I don't show up on the image, as long as I keep moving and no direct light falls on my body. This is no easy feat, considering it's pitch-black with rocks, and cactus threatens to draw blood.
The work doesn't stop there. The camera has captured more than what I see. The Milky Way appears as a band of white sparkly stars against the black sky. My job is to coax the color out the camera's sensor and into an expression of photographic art.
I open the images in Adobe LightRoom (although any photo editing program will work). The first thing I do is brighten the overall exposure, bringing out the stars in all their glory.