Submit your work for the upcoming Issue 
International Call for Entries
The International Lens Magazine #27- December 2016
The Black & White Issue
SUBMIT YOUR WORK
••• Open for all photography fields  ••• 
Submission Accepted until December, 5th 2016.
Submitting accepted from all countries, send up to 15 low resolution photographs files and text resumes or artist statement. Entry to the contest is free of charge.
Judging will be completed by December 5th, and you will receive an email communication of the results.
The chosen photographers will get a full article, featured up to 15 artworks and special links to their website/Instagram. Will be a basic fee of $30 only for graphic&editing work on the article. Payment by credit card or PayPal. All Articles and Artworks will be published on Lens Magazine Digital & Print versions, available for subscription & Single Issues worldwide and will be featured on Lens Magazine Website.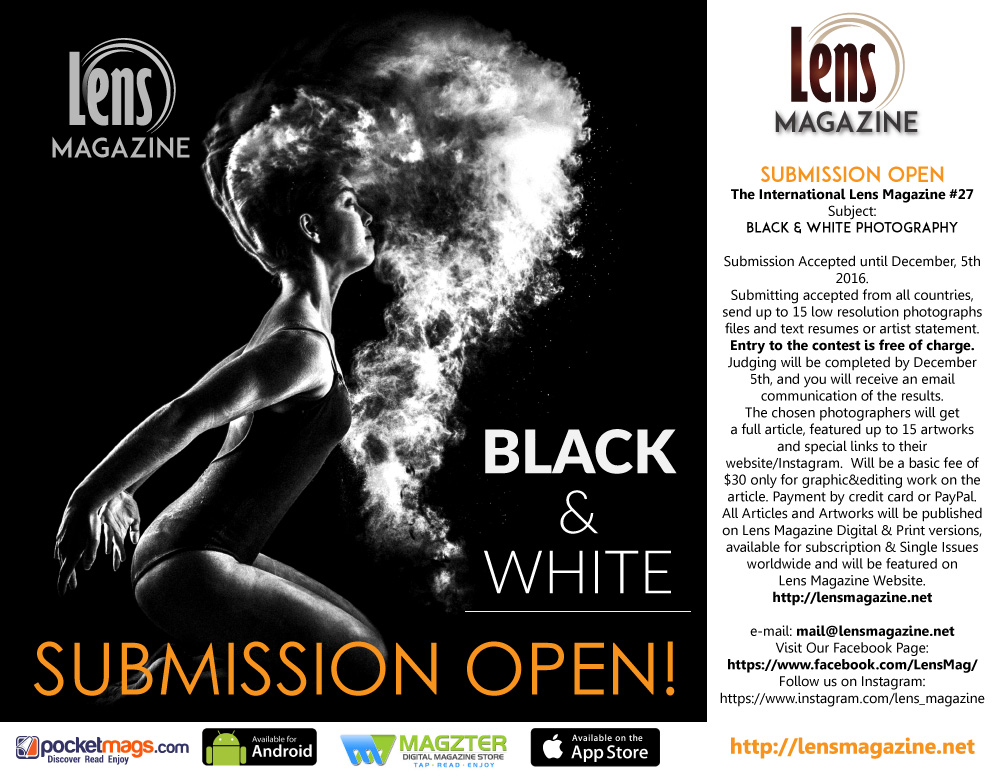 -Images & Article are for the use of Lens Magazine Only on Digital&Printed Editions and for featured on the site- Copyrights belong to the photographers and being saved.
—————————————————
Please send up to 15 images (quality: Low resolution ,not for press)
— Digital images should be taken with your camera set for highest resolution. Create low resolution COPIES of your photos saved as 72 ppi Jpg at about 1000 pixels on the long side and no larger than 500 KB for each entry.
Add Artist Statement or Photographer C.V
mail for submission:
mail@lensmagazine.net