The Sea of Warren Keelan
An interview with multi-international award winning seascape and ocean photographer Warren Keelan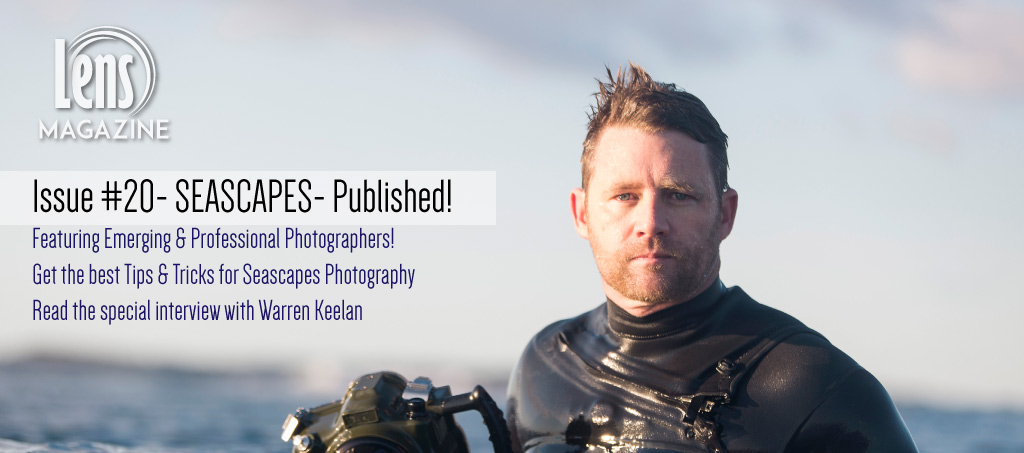 Warren Keelan, a gifted multi-international award winning seascape and ocean photographer based in the Illawarra South Coast region of NSW, Australia. His images have been awarded highly in the prestigious photographic competitions: International Landscape Photographer of the Year, International Photo Awards, International Monochrome Awards, Epson International Pano, Siena International & International Loupe Awards and has received local and international recognition via TV, radio & newspapers. We are so excited to have this special interview with one of the greatests Seascapes photographers!
Hello Warren, Please introduce yourself to our readers,
Hello! My name is Warren Keelan, I am a seascape and an ocean photographer living on the South Coast of New South Wales, Australia. I spend most of my days alongside or within the ocean, interpreting what I see through the medium of digital photography. I've always had a fascination with nature, especially the ocean and its ever changing forms, and I am compelled to capture and share what I feel are special and unique moments in the sea. I love the raw, unpredictable nature of water in motion and the way sunlight brings it all to life, from both above and below the surface. For me, the challenge is creating an image that hopefully tells a story or leaves an impression on the viewer. In 2013 I opened my first photo gallery in Wollongong where I am extremely privileged to be able to showcase and sell my printed works to both local and international clients.
What is your background with photography?
I have always felt the need to express myself through creativity. I spent over a decade as a touring progressive rock musician, before teaching myself to read and write code in order to design and develop websites. I picked up the camera and saw it as a tool to create art and make pictures of one of my greatest loves, the ocean. I purchased my first professional DSLR, a Canon 5DMKII, in 2011 and taught myself how to use it. I fell in love with traditional landscape photography to begin with, but wanted more of a challenge so I took what I learnt into the water with an Aquatech housing and began making landscape images from within the ocean.
What made you decide to venture into this kind of photography?
I've spent the majority of my life in and around the sea, and felt I could use a digital camera to create artwork from ocean water and sunlight – a beautiful marriage of elements. There also weren't too many others doing this kind of photography when I started so I found it really appealing; delving into a different genre of image making. I also love the fact that there are no rules to ocean photography – it's limited only by your imagination.
Do you still remember/have the first seascapes photo you took? If so, can you tell us something about it?
I remember the very first time I took my camera into the ocean in an attempt to create the scenes I had in my mind. Immediately I found how difficult it was to shoot these kinds of images and returned home a broken and discouraged man. However, I did not give up, and shot almost daily for an entire month until I had made an image I could actually say I liked. I still have that shot somewhere in my archives and look back on it at times as a reminder of the importance of practice and persistence. We all have to start somewhere, hey.
Tell us about the difficulties of creating seascapes shooting, especially trying to get the perfect shot of crashing waves, stormy sea etc.
I think having years of experience being in and around the ocean is essential to creating images of waves, especially from within the water. There's an advantage in knowing how wind direction, tides, swell and lighting can affect the shape, character and movement of waves and ultimately how to shoot them. Once you know how these elements work, you just need to try and avoid injury while swimming and shooting amongst the chaos.
What is your current gear?
I'm currently using Canon 5DMKIII's with Canon L series lenses including a 70-200mm IS II 2.8, 24-70mm 2.8, 16-35mm 2.8 along with a Canon 50mm 1.4 and 15mm 2.8 Fisheye lenses. My cameras, lenses and flash units are all protected in an Aquatech Water Housing while shooting in the sea. I also use Adelio wetsuits for warmth and DaFin swimfins for propulsion.
Do you see yourself taking photos of other spots in the world other than on the South Coast of New South Wales, Australia? If so, which would be your top three places for shooting seascapes?
Absolutely! I'm extremely lucky to live in an area that boasts some of the best waves and most unique coastline in the world, but I there's a growing list of places I eventually want to visit. The top of the list would include Hawaii, Tahiti and the Cook Islands for ocean based seascapes. However, along with creating images of waves and seascapes, I also love to photograph ocean creatures and hope to one day encounter the humpback whales of Tonga, the giant whale sharks of Ningaloo Reef in Western Australia and more of the amazing ocean life of Australia's Great Barrier Reef.
Read the full interview on Lens Magazine #20 Seascapes