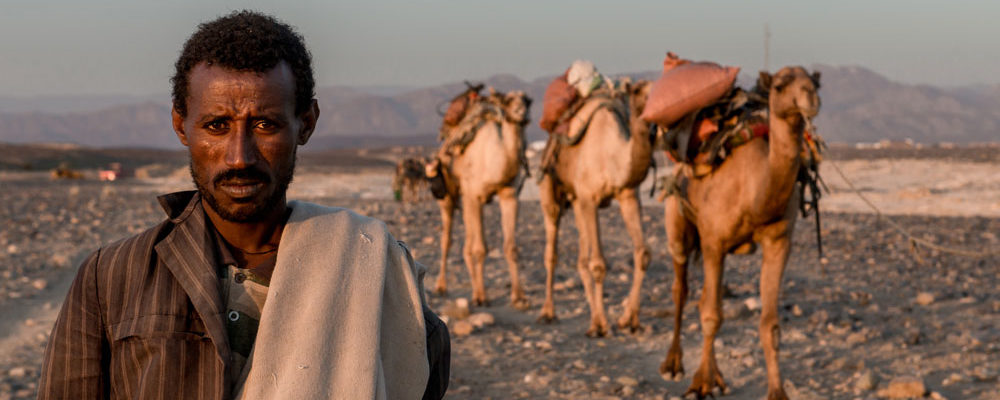 Danakil Desert
The Home Of The Afar Tribe
By Neta Dekel
The Danakil Desert is a desert that stretches across 100,000 square kilometers in 3 countries: northeast Ethiopia, southern Eritrea and northwestern Djibouti. With its active volcanoes and extreme heat, daytime temperatures that surpasses 50 °C (122 °F), and less than an inch of rainfall a year, the Danakil Desert is known as one of the lowest and hottest places on Earth.
The journey to Danakil desert was the idea of my father, an 80-year-old man. We have gathered a small group of 8 friends and went out for the adventure.
We took our 4X4 vehicles in Addis Ababa and accompanied by additional vehicle with a cook, camping equipment and 2 armed guards we headed out to the desert.
Right from the beginning, we faced the harsh conditions of the desert – the heat, the dust,
and the bright sun.
The local inhabitants are from the Afar tribe. The Afar people are raising camels, donkeys, goats and sheep. In other areas they are mining salt.
The Afar lives in small villages with primitive sheds made of local wood or tin shacks.
As we continued our journey, we found an isolated oasis in the dessert, where the locals come from kilometers away for get some "fresh" (but actually real dirty) water. They fill their water balloons made of goats or sheep skin with brown water for drinking, cooking and washing.
Some of the young Afar people were lucky enough to have jobs, working as salt miners in the salt pools of the Afdera lake. The Afdera lake is a salty lake with 13% salt. A local company pumps the water into large pools and after the water is dried up, the locals start to mine the salt by hands using only picks. They are working in the white dried out pools of salt in the sun with extreme heat. Not an easy day in the office…
Read the full article on Lens Magazine Issue #32