Welcome to the International Lens Magazine
Lens Magazine for Contemporary fine art photography, The magazine featured the most known photographers in the world along side with emerging photographers from all around the globe.
Lens Magazine takes a single concept each month, and allows its contributors to delve into any ideas and emotions evoked from this theme, leading to a rich and varied selection of photographs and stories behind them. The most recent issue featured extraordinary fields and concepts,  leading to some truly incredible submissions and contributions, each and every one as beautiful and impressive as they are unique.
Digital subscriptions are available across all devices, on all platforms.
---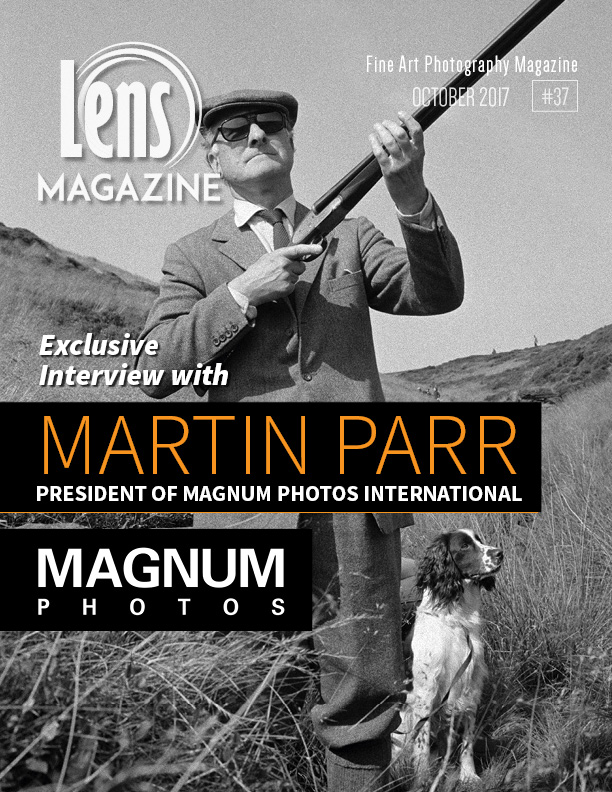 Just Published!
Issue #37 – October 2017
We are very honored and super excited publishing this month's issue featuring an exclusive interview with Martin Parr, one of the greatest photographers of our time, a remarkable man who has made an extraordinary impact on the photography world, a full member of the Magnum Photographic Cooperative, and has served as President of Magnum Photos International since 2013.
More you will find in this fabulous issue, documentary projects made by extraordinary emerging photographers!
We would like to give a special thanks to Martin Parr for this fantastic interview and to Allan Kliger, Photojournalist at Lens Magazine, for his time and effort creating such a great article!
Enjoy!
Subscribe now on Magzter

---
---

  
MOST INFLUENTIAL
An Interview with – Mustafah Abdulaziz- Special Project: Water The project Water (2012-2027) is a long-term photographic documentation of a resource in crisis. The focus of the work is on the intersection of culpability and ecology, where large-scale behavioral

Exclusive Interview With Ami Vitale By Anne Pinto-Rodrigues Ami Vitale's journey as a photographer, writer and filmmaker has taken her to over 90 countries, where she has witnessed civil unrest and violence, but also surreal beauty and the enduring

SPECIAL INTERVIEW WITH JOEL MEYEROWITZ BY SEBI BERENS JOEL MEYEROWITZ Born in 1938, New York, United States. Lives and works in New York, United States. With his career beginning in 1962 and with being famous for his complex
BEST ARTICLES
EMOTIONAL MOMENTS by Allan Kliger "Emotion – We all know what emotion is, don't we? Or rather, we know what it looks like when we see it in someone else, and we know what it is when feeling it

ARLES 2017 Exhibitions Coverage by SEBI BERENS What an opening week! The capital of the Camargue, Arles opened up the "Rencontres d'Arles" 2017. The summer photo festival in the South-East of France takes place since 1970 and presents more

An Interview with Mathieu Willcocks Photojournalist/Photographer WPP Prize: Spot News – Third Prize, Stories By Anne Pinto-Rodrigues Mathieu Willcocks was born in Paris in 1988 and grew up in Hong Kong. He started in photography after an internship at
GET YOUR DIGITAL MAGAZINE NOW!
Available on magzter, App store Newsstand & Google Play