Welcome to the International Lens Magazine
Lens Magazine for Contemporary fine art photography, The magazine featured the most known photographers in the world along side with emerging photographers from all around the globe.
Lens Magazine takes a single concept each month, and allows its contributors to delve into any ideas and emotions evoked from this theme, leading to a rich and varied selection of photographs and stories behind them. The most recent issue featured extraordinary fields and concepts,  leading to some truly incredible submissions and contributions, each and every one as beautiful and impressive as they are unique.
Digital subscriptions are available across all devices, on all platforms.
---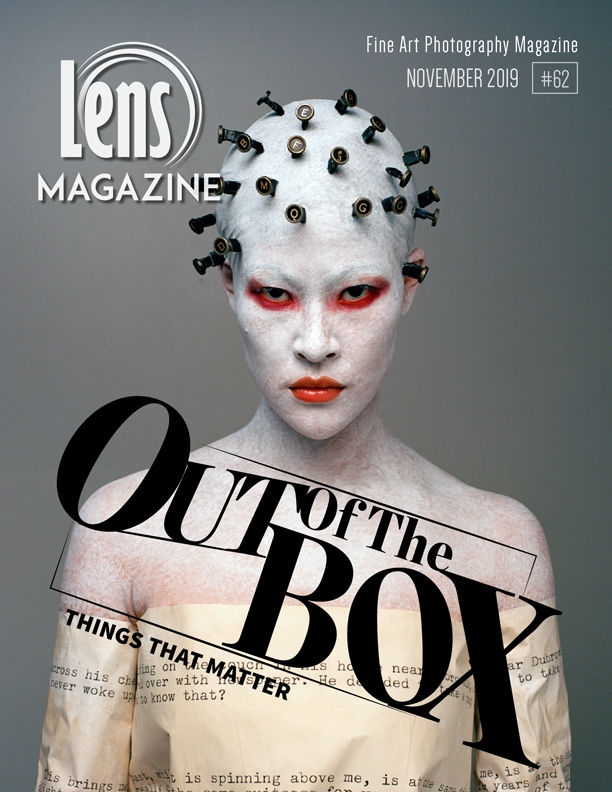 Lens Magazine ♛ 
★ OUT OF THE BOX ★Issue #62. November 2019
In this month's fabulous issue we focus on the things that matter. MAHYA RASTEGAR, an Iranian photographer exhibits her very important, empowering woman series, A representative collection of women in Iran, who are constantly trying to make the new transformation to keep women's identity alive, regardless of gender, along with the environmental and virtual changes of women and the reduction of the attitudes of misogyny and patriarchy in society. Fine Art Photographer Haruhiko Kawaguchi expresses his love in a very intimate exclusive interview. Franco-Iranian Photojournalist REZA exhibits a series from his newly published book "IRAN, RÊVES ET DÉRIVES". More you will find, exclusive articles by extraordinary fine art photographers from all over the world, focusing on all issues that matter in this confusing, unstable generation.
Enjoy!
Participating Photographers: 🔥
(Articles & Interviews)
MAHYA RASTEGAR  | HARUHIKO KAWAGUCHI  | REZA | JOEY L. | REBECCA DROLEN  | KUZMA &AJUAN  | SARA ZAHER  | LISA POWERS  | DONNA ARNOLD  | ADAM PLANT  | VICKY MARTIN  |
Cover Image: Photography by KUZMA&AJUAN ©
All Rights Reserved. See Interview Article on Page 104
---

---

★Art Market Magazine – The GOLD LIST ♛
Special Edition #5 -PUBLISHED!★

Top Contemporary Artists of Today! 
The honorable Art Market Magazine's Special Edition Dedicated to Contemporary Art, featuring most promising, gifted and professional Artists & Fine Art Photographers operating in the world today. Artists that their work being exhibited in the most known galleries and museums around the world, and we most recommend investing in their art.
The magazine gets a full distribution and exposure to over 50,000 readers around the world, with a direct distribution in digital & print, including Barnes & Noble bookstore in the US & Canada, Steimatzky Bookstore in Israel, international art Fairs, galleries, renowned museum and gallery curators, art collectors, investors, and other prominent figures in today's art industry.
Visit Lens' Sister Magazine: The International Art Market Magazine
Discover the Artists & Fine Art Photographers 
---
GET YOUR DIGITAL MAGAZINE NOW!Available on magzter, App store Newsstand & Google Play